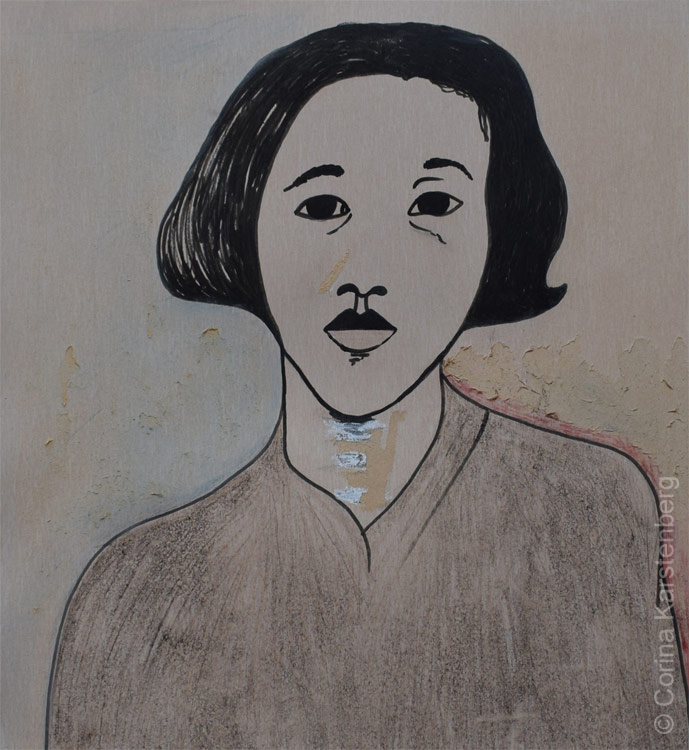 About Corina Karstenberg
A journey through time.
Fake news and facts.
Corina Karstenberg was born in 1967 in The Netherlands. After obtaining her first qualification as a florist, she became a qualified carpenter and upholsterer. At the age of 20 she started to study Restoration of Wood and Polychrome at Brussels Academy of Visual Arts. At the same time she studied the basics of painting at the Art Academy in Leuven under the supervision of Pol Mariën. This period became meaningful for her artistic development. Corina started to work as restorer of ethnographic art at the Royal Museum for Central Africa in Tervuren (Brussels). She worked closely with art dealers who specialised in African Art from the famous Place du Grand Sablon.
Her experiences in the world of African Art made Corina decide to quit her job as a restorer. Instead she enrolled at the Radboud University in Nijmegen to study. It was her aim to better understand what had happened to the people in Africa, and how they had come to be treated as objects. Her bachelor year dealt with comparative Religion: Christianity, Islam, Judaism, Hinduism and Buddhism. Corina continued at the Department of Arts her education with the History of Culture and Mentality (of Europe). In Swansea (Wales, 1999/2000) she wrote her final paper 'The history of the development of gender categories'. These two subjects – Religion and Culture – gave her renewed insights into how the world is influenced not only by Religion and the dominant Western Culture but also by binaries of gender, race and identity.
As a professional she worked for the government, employed to advise and liaise around issues of sex trafficking, drug addiction, poverty, diversity and gender and sexuality. In general she feels fortunate in her life to have had the chance to look into many kitchens, and to be able to confront and imagine reality from many different points of views. This makes her feel a true citizen of the world. It was twenty seven years ago that Corina painted her first portrait of a woman murdered by the Khmer Rouge in Cambodia, and gave it the telling title Potential Refugee.